Oct 14, 2015
Continued reading 'The Maids' by Jean Genet
Watched a trailer of the Maids
---
Review on The Maids (2014) by Sydney Theatre Company
"Blanchett and Huppert make The Maids less a tragedy than a tantrum – review"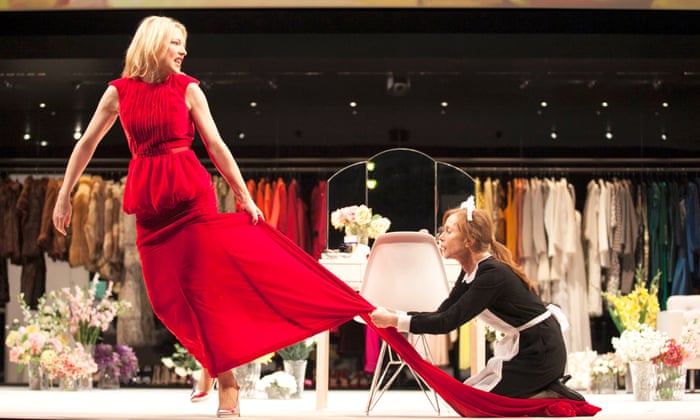 " By his standards, it is tame stuff. There are no rapes, no hangings, no stabbings. There's not even any sex, nor men, although Sartre thought adolescent boys should portray the female roles, a suggestion which has been acted upon.
Cate Blanchett is Claire, a maid; Isabelle Huppert, the superb French actress, is Solange, the other maid (and Claire's sister); and Elizabeth Debicki, an Australian, is a character identified variously as Mistress, Madame and "that bitch". The play documents the effects on the soul of being that bitch's bitches. It's all very love/hate, master/slave, Lacan/Hegel. 
Genet based his play on an actual criminal episode from the 1930s, the infamous Pepin Case, in which two maids from Le Mans were convicted of killing their employer. Around this premise, he weaves his distinctive themes – the fluidity of identity, the turn-on of degradation. His maids want to kill their mistress, but also wish they could be her. The play opens with them fantasising about doing both – a sort of playlet within the play.
The Sydney production is on the postmodern side. A large rectangular screen, on which live footage of the performance is projected, hangs from the far wall. Glass partitions to stage left and right display cameramen positioned within them and there are also invisible cameras, including one in a vanity at centre stage. The big advantage conferred by these cameras is the close-up. We get to see the great Blanchett face, mascara in ruins, writ large as it goes to pieces; likewise the great Huppert face. It's a cheat of the rules of theatre – the trick of which, for an actor, is to be as subtle as the text while staying perceptible from a hundred yards away – but only a pedant would call foul.
The point is, as Claire puts it, that "the whole world is watching". Everything is mirrored, retransmitted, digitized .(James Camp, 2014)"
Excerpt from: http://www.theguardian.com/stage/2014/aug/10/cate-blanchett-isabelle-huppert-the-maids-review